Clove Oil (Syzygium aromaticum)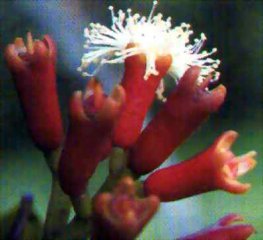 Clove essential oil has a sweet, strong, spicy fragrance that many recognize from mulled wine and spice cake. It originally came from the Spice Islands of Madagascar and has its origins in the myrtle family (myrtaceae).The scent of clove oil is stimulating and revitalizing. Clove is is a very potent essential oil that is quite "hot," meaning it can burn if used undiluted. Use with great care in aromatherapy.
Cloves offer a great deal with respect to nutrition and healing. Cloves are flower buds that come from the Syzygium aromaticum plant. They have a spicy and pungent taste and are known for their anti-inflammatory and antidiabetic properties. Just one teaspoon of cloves contains decent amounts of manganese, fiber, and vitamins C and K. While manganese boosts brain function and helps build bones, vitamins C and K boost immunity and prevent blood clotting. Vitamin K is also important for bone health. Studies have shown that the eugenol in clove works as a powerful anti-inflammatory agent. This is also true with clove essential oil, one form of clove that is widely available.
Cloves have shown to fight inflammation and reduce levels of a specific pro-inflammatory cytokines. Lowering these cytokines can significantly reduce the likelihood of arthritis and joint pains. In fact, long-term inflammation can lead to arthritis – and taking clove regularly could be a good step in controlling that that. Cloves are also good sources of antioxidants. In fact, half a teaspoon of ground clove contains more antioxidants than half a cup of blueberries.
This is especially true with clove oil. The Clove oil impacts the body's metabolism and reduces body temperature, and this enhances circulation.The antioxidant properties of cloves might also help purify the blood. Evidence suggests that massaging with clove oil might help relieve stress. The eugenol in clove is known to provide relief. The substance is an anesthetic and has antibacterial properties, this also halps in relieving pain. One simple way to get rid of a toothache is to place a few whole cloves in the mouth and moisten them with saliva – after which they can be crushed with the teeth. The oil that is released fights the pain. One can use a whole clove for 30 minutes, before discarding it and repeating the process with a new one. Cloves can also be crushed for more severe pain. Cloves can also combat bad breath.
The cooling and pain-relieving properties of cloves can work wonders in aromatherapy, massage oil, or pain cream. The antibacterial and antifungal properties of cloves works well in relieving acne and improving skin health. The eugenol in the oil has antibacterial properties.


Disclaimer: The information presented herein is intended for educational purposes only. These statements have not been evaluated by the FDA and are not intended to diagnose, cure, treat or prevent disease. Individual results may vary, and before using any supplements, it is always advisable to consult with your own health care provider.