Pecans (Caraya Illinoensis)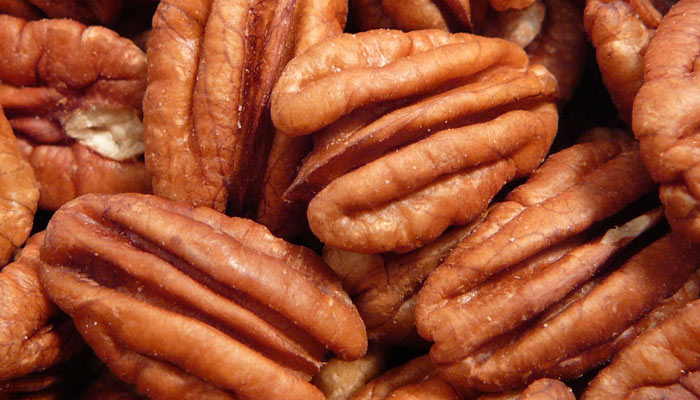 Pecans are one of the most popular edible nuts native to North America and Mexico. The pecan tree is a large deciduous tree belonging to the hickory family. A typical pecan has a buttery rich shell which is golden brown outside and beige inside. The kernel occupies 40% to 60% of the space inside the shell. This kernel has a grooved surface but is slightly more oval in shape. The pecan has a sweet, rich and buttery flavor and texture which can be attributed to its high levels of monounsaturated oils. Pecans have a fat content of over 70% which is the highest among all the nuts. Shelled pecans are available all year round while unshelled pecans are available in autumn. Pecans come in various sizes such as mammoth, extra-large, large, medium, small and midget. They are also available in several forms such as whole pecans, pecan halves, pieces, granules and meals. Their rich buttery flavor makes them suitable for both savory and sweet dishes. The famous "pecan pie" is a classic South American dish which uses pecan as a primary ingredient. Raw pecans can be salted or sweetened and make for a delicious snack. They can be sprinkled over desserts, particularly sundaes and ice creams. They are also widely used in confectionery as an addition to biscuits, sweets and cakes. Pecan nut butter is a popular spread for breads, toast etc.

Health Benefits of Pecans:

Like most other nuts, pecans contain various nutrients, minerals, antioxidants and vitamins that offer some wonderful health benefits. Cardiovascular Health: Pecans are rich in fiber which boosts the health of your heart. It also contains monounsaturated fats like oleic acid along with phenolic antioxidants that are healthy for your heart. As per research, pecans may inhibit unwanted oxidation of blood lipids. Digestive Health: The fiber contained in pecans promotes colon health and facilitates regular bowel movements. It enables the colon to work at greater levels of efficiency by cleaning out the gastrointestinal system. Helps in Weight Loss: Research has indicated that a diet comprising of nuts such as pecans helps in losing weight. This is because nut consumption enhances satiety and increases metabolism. Bone and Teeth Health: Phosphorus is one of the most abundant minerals in the body after calcium. Nearly 85% of phosphorus is found in bones and teeth while the other 15% is found in cells and tissues. Besides cleansing the waste from the body, phosphorus, along with calcium, promotes the health of your bones and teeth. This mineral is also vital for the growth and repair of cells and tissues as well as production of DNA and RNA. Lastly, it prevents muscle pain that can occur due to exercising. Anti-inflammatory Benefits: Pecans are rich in magnesium which is known for its anti-inflammatory benefits. Studies have proved that increased magnesium intake reduces inflammatory indicators in the body such as CRP (C-reactive protein), TNF (tumor necrosis factor alpha) and IL6 (interlukin 6). It also reduces inflammation in the arterial walls, thus reducing a risk of certain health conditions. Other Properties: Pecans are rich in phytochemical substances such as polyphenolic antioxidant ellagic acid, vitamin E, beta-carotene, lutein and zea-xanthin. These compounds play an important role in removing toxic oxygen-free radicals, thus protecting your body from diseases and infections. Ellagic acid possesses anti-proliferative properties which inhibit DNA binding of certain carcinogens such as nitrosamines and polycyclic hydrocarbons. Strengthens the Immune System: Pecans are a rich source of manganese which is a powerful antioxidant. This trace mineral helps boost your immunity and protects your nerve cells from free-radical damage. Adequate intake of manganese is vital for nerve conduction and brain function.

Benefits for Skin.

Anti-ageing benefits: Ellagic acid, Vitamin E and A are some of the antioxidants present in pecans. They fight against free radicals that are responsible for causing premature ageing of the skin and thus help in removing various signs of ageing like wrinkles, pigmentations and fine lines on the skin, especially around the mouth and the eyes. Helps maintain a clear complexion: The mineral zinc present in pecans help in protecting your skin from various infections and keep your skin healthy. Vitamin A that is present in pecans helps in providing you a clear skin without any blemishes. Prevents skin problems: ecans are rich in various nutrients that are essential for the skin and helps in getting a healthy skin. The appearance of the skin depends greatly on you take in. So you need to take a balanced and nutritious diet to have a healthy skin without any problems. If the toxins inside the body are not removed properly, your skin will show it and you will have dull and oily skin with acne, pimples and other such problems. Pecans contain fibers, which ensure that you have a healthy body and thus are good for your skin also. Consuming pecans regularly help to remove toxins and wastes from the body. This in turn provides you a healthy and glowing skin.

Benefits of Pecan nuts for Hair.

Prevents hair loss: One of the major reasons for hair loss is anemia, which is an iron deficiency disease. Pecans are rich in iron and therefore prevent hair fall if you include them in your daily diet. Stimulates hair growth: Hair follicles need enough nutrients in order to give rise to strong and healthy hair. So, if your body is healthy, your hair and skin also will be healthy. Pecans are rich in L-arginine, which is and amino acid. It can treat baldness in men when it is applied on the scalp. It also provides you healthy hair. For the hair to grow properly and for a healthy scalp, proper blood circulation is essential. L-arginine makes the artery walls flexible and helps in preventing clotting of the blood. Thus it improves hair growth.

Hair density refers to how closely your strands of hair are packed together. You can determine your hair density by counting how many strands you have per 1-inch section. If you have low-density hair, then your hair will give an appearance of being thin. You can improve this density by incorporating pecan oil into your treatments for 3 – 6 months.

Pecan oil is extracted from the nut of the pecan tree. It has a high smoke point of 470 degrees and can be used safely with heat. It is rich in essential fatty acids, which may reduce bad cholesterol level and the risk of heart disease. It has a mild nutty flavor, which enhances the flavour of anything it's added to. Pecans come in various sizes ranging from enormous to medium to extra-small.

Benefits of Pecan Oil for Hairpecan-pie
•The nutrients in the oil strengthen the hair from inside helping each strand of hair grow smoother and thicker.
•It is a good substitute for butter in baking.
•Mixed in with the right oils, it can improve the natural colour of your hair and promote glossy hair.

Glossy Hair Recipe

You will need 5 tablespoons of pecan, hazelnut and kukui nut oil, a mild shampoo such as Renpure Originals Argan Oil Luxurious Shampoo & Crème of Nature Argan Oil Moisture & Shine Shampoo and an avocado rich deep conditioner.
•Mix the 3 oils together and heat over hot water.
•Dampen your hair, then apply to the scalp and length of your hair.
•Cover with a shower cap and leave in for an hour then wash out with one of the shampoos above or a similar mild shampoo.
•Whip your avocado deep conditioner together then apply and deep condition your hair as usual.
•Repeating this treatment once a week over 3 – 6 months will lead to glossier hair.




Disclaimer: The information presented herein is intended for educational purposes only. These statements have not been evaluated by the FDA and are not intended to diagnose, cure, treat or prevent disease. Individual results may vary, and before using any supplements, it is always advisable to consult with your own health care provider.