Carnation (Dianthus Caryophyllus)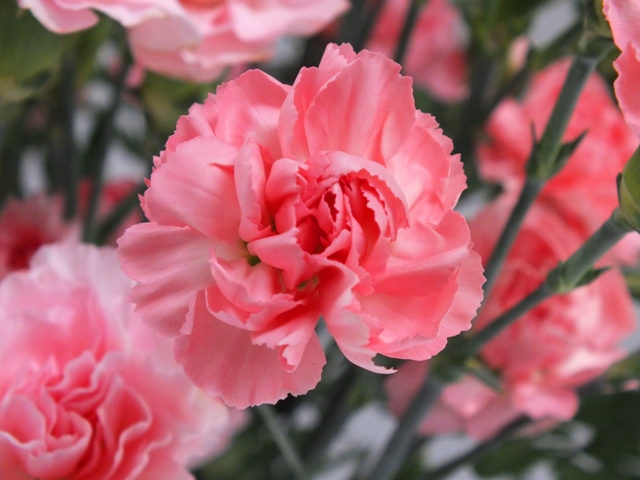 Carnations have traditionally been used by artists, writers and poets to inspire great works of creativity, increase motivation and provide a veritable muse of euphoria. First cultivated in Ancient Egypt over 2,000 years ago, carnations are one of the world's most popular flowers, and were said to be the favorite flower of the Roman King of the Gods, Jove. Carnations represent love, purity, good fortune, graciousness, and gratitude. It is believed to have come from the Mediterranean region, perhaps Greece. Theophrastus first gave them the name Dianthus, meaning flowers of the gods. They smell rather like cloves to which they are related, and they are also in the same family, Carophylliaceae, as soapwort, (Saponaria officinalis) and the soapnut, or reetha. If you simmer the carnation leaves in water you will get a solution which can be used to wash delicate clothes or your skin. They yield an essential oil used in aromatherapy to calm frazzled nerves and have a soothing effect although at one time the flowers were considered aphrodisiacs.
In the late 17th century, the countess of Dorset used carnations in her love potion which consisted of these flowers, bay leaves, marjoram, and lavender. Today the flower head can be dried and mixed in pot-pourri along with a few cloves, sandalwood, rose petals and your other favourite herbs and/or spices. They can also, when dried be placed in sachets and put in wardrobes and drawers to scent clothes and linen.
Culpeper, in his Herball of the 17th century had this to say of them; carnations "are gallant, fine, temperate flowers…they are great strengtheners of the brain and heart…" In Indian medicine systems they are considered to have anti-spasmodic properties, useful to stop stomach cramps, diaphoretic, promoting sweat in fevers and to reduce other fever symptoms. They are also regarded as a useful heart tonic and as a soothing herb for nervous disorders and stress.
Carnations, also known as Dianthus caryophyllus, have long been brewed into teas that may help alleviate stress and nervousness. Carnations grown, cultivated and dried into tea brews have also been used to treat minor depression and fatigue.
In Europe, folk medicine relied on infusions or teas brewed of carnations to help relieve nervousness and some coronary disorders, as well as for nausea caused by seasickness.
In massage oils, carnations have been used to promote healing of the skin and to increase vitality that not only softens and replenishes the skin, but creates a scent that many find soothing and calming.
In ancient China, carnation flower tea was widely used to help the body and spirit relax, and to restore energy in the body. Carnations contain substances that soothe the nervous system, reduce inflammation and swelling and can help restore natural hormonal balances in women with nervous conditions associated with hormone imbalances. Carnations have long been used to reduce muscle tension in uterine tissues, reducing the discomfort of menstrual cramps.
Carnation oils have therapeutic benefits for the treatment of skin rashes and act like a conditioner for the skin. The flower has been used in a variety of cosmetic formulations for reducing wrinkles, assiststing with cases of eczema, minimizes ashes; conditioning the skin, and calming instances of rosacea.
According to some ancient Aztec homeopathic remedies, carnations were used by this Indian culture as a diuretic when taken in an infusion of carnation flower petals in hot water. The ancient Indian tribe also used carnations for treatment and relief of chest congestion and diseases by taking about 1 tbsp. of the flower petals mixed with sugar and boiled in a syrup every three hours.
Carnation is spiritually uplifting and motivating. Carnation oil can be used in soaps, candles, potpourri, room fresheners, and in massage therapy applications.
In perfumery, Carnation is an excellent fixative with a very long, slow dry down.
Carnation oil is said to blend well with Clary Sage, Coriander, Lavender, Jonquille, and Ylang ylang.



Disclaimer: The information presented herein is intended for educational purposes only. These statements have not been evaluated by the FDA and are not intended to diagnose, cure, treat or prevent disease. Individual results may vary, and before using any supplements, it is always advisable to consult with your own health care provider.