Davana (Artemisia Pallens)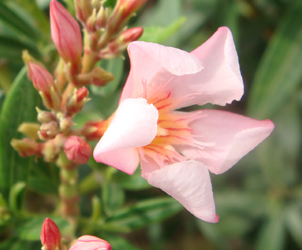 The Essential Oil of Davana is extracted by steam distillation of flowers of Davana plant. This plant is botanically known as Artemisia Pallens and it has been in use in India for its medicinal properties since ancient times.

The health benefits of Davana Essential Oil can be attributed to its properties like anti depression, anti septic, anti viral, disinfectant, emenagogue, expectorant, relaxant and vulnerary.

The chief components of Davana Essential Oil are a ketone called davanone, linalool, few terpenoids and davana ether.

Davana Essential Oil is an effective Antidepressant.

The oil is used for making fragrances and it is said that the aroma can actually bring down the mental stress and anxiety. It reduces blood pressure in cases of anxiety and stress and gives relief from symptoms associated with stress and depression through relaxation. This oil induces mental peace, and helps recover from after effects of shock, trauma, disappointment, failures etc.

Davana Essential Oil is Antiseptic.
It fights infections causing septic of internal and external wounds, urinary tracts, urethra, kidneys and other parts. It also gives protection against conditions like tetanus. This should be applied without delay in mild concentrations in cases of cuts and wounds, particularly from iron objects, dirty abrasives etc.

Davana Essential Oil is Antiviral.
This oil builds up effective protection against viral attacks. It ruptures the protective covering of virus called cyst and thereby killing the virus. It cures viral infections such as cough & cold, influenza, measles etc.

Davana Essential Oil is Disinfectant.
It fights infections from bacteria, microbes, fungi and virus and helps cure infectious diseases. If used in fumigants or sprays or vapourizers, it disinfects the whole area and makes it free from microbes.

Davana Essential Oil is Emenagogue. Opens up blocked menstruations and makes them regular. It is good in curing menstrual spasm. It also eases pain associated with menses and gives relief from other symptoms such as fatigue, nausea, pelvic pain, cramps etc.

Davana Essential Oil is Expectorant.
The Essential Oil of Davana loosens the tough cough and phlegm depositions in the respiratory tracts and makes breathing easier. It relieves congestion and reduces coughs and also treats other problems such as headache and pain in the joints associated with cold.

Davana Essential Oil is Relaxant.
The Essential Oil of Davana relaxes contractions in muscles, blood vessels and also has a relaxing effect on the brain and the nervous system, thus fighting anxiety, stress, depression, anger etc. This helps get a good sleep too.

Davana Essential Oil is Vulnerary.
This property of Davana Essential Oil heals wounds faster and protects them from infections.

Davana Essential Oil possesses Cosmetic properties:

The oil possesses unique skin rejuvenating properties and has found to be effectual in the treatment of acne, because of its antibacterial properties. Davana oil is used to treat stretch marks.

Other Benefits: This oil also has mild vermifuge and insect repellant properties. It also shows hypotensive properties and brings down blood pressure.

Few Words of Caution: This oil is non toxic, but can cause irritations and therefore should be avoided during pregnancy.

Blending: Davana Essential Oil blends with most of the citrus, spicy and woody essential oils such as neroli, geranium, grapefruit, cedar wood, caraway, coriander and chamomile essential oils.

Disclaimer: The information presented herein is intended for educational purposes only. These statements have not been evaluated by the FDA and are not intended to diagnose, cure, treat or prevent disease. Individual results may vary, and before using any supplements, it is always advisable to consult with your own health care provider.