Safflower Oil (Carthamus tinctorius)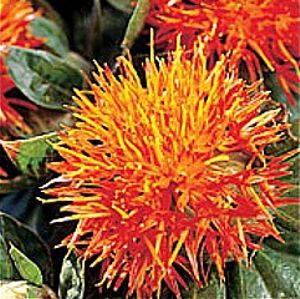 Cold pressed, organic safflower oil is a wonderful food for all skin problems especially acne. Safflower oil is the richest natural source of Omega 6 we know of. Oils high in Omega 6 are less inclined to aggregate or stick together due to the fact that the molecules repel each other making it more inclined to disperse or remain fluid. This means that if the oil that your oil glands produce is rich in Omega 6 it will easily find its way up the through your pores and out onto the skins surface, preventing congestion and even helping to dissolve existing blockages. This is just what you need if you suffer from acne.

Safflower oil, like olive oil, is very high in linoleic acid, . Your skin makes linoleic acid to help keep it soft, keep the moisture level up by slowing the drying effects of wind and low humidity and seal in moisture after a shower or bath. Skin oils also act as barriers to exterior pollutants.


Unfortunately, as we age, and the sun can age us prematurely, our body's ability to manufacture linoleic acid decreases, contributing to the aging process. Is safflower oil safe? Many hospitals use the cold pressed type on newborn babies. Some dermatologists recommend it as a full body lotion, but caution not to get it in the eyes. If you're in a hurry, be aware that safflower oil takes a little time to be absorbed into the skin.

Hair Care with Oil

Oil massage to the scalp and hair is very essential for their good health. It enhances the hair growth due to increase in blood circulation. Different oils such as coconut oil, jojoba oil, olive oil and almond oil are used for head massage. Your question is that can safflower oil be used for hair just like olive oil? The answer is yes, you can. Safflower oil is derived from the safflower seeds. It contains high amounts of oleic acid. It protects, nourishes and firms the hair. It is the incredible choice for hydrating skin and hair. The flavorless safflower oil can easily penetrate the skin due to its light texture. It contains more polyunsaturated fatty acids than other oils. This oil is exceptionally rich in essential fatty acids and can be used for hair care to structure the sensitized hair. You can use it for hair massage because of its great moisturizing qualities. Safflower oil is found to be effective for dry, color treated or permed hair. It is used in shampoo or conditioners. Shampoos made with safflower oil are effective, hypoallergenic and mild to scalp and hair. It is believed that safflower oil applied to the scalp works as a vasolidator which can dilate the blood vessels. It results in more nutrients supply to the hair follicles through blood circulation and creates the environment for hair regrowth.

Disclaimer: The information presented herein is intended for educational purposes only. These statements have not been evaluated by the FDA and are not intended to diagnose, cure, treat or prevent disease. Individual results may vary, and before using any supplements, it is always advisable to consult with your own health care provider.