Moringa (Moringa Oleifera)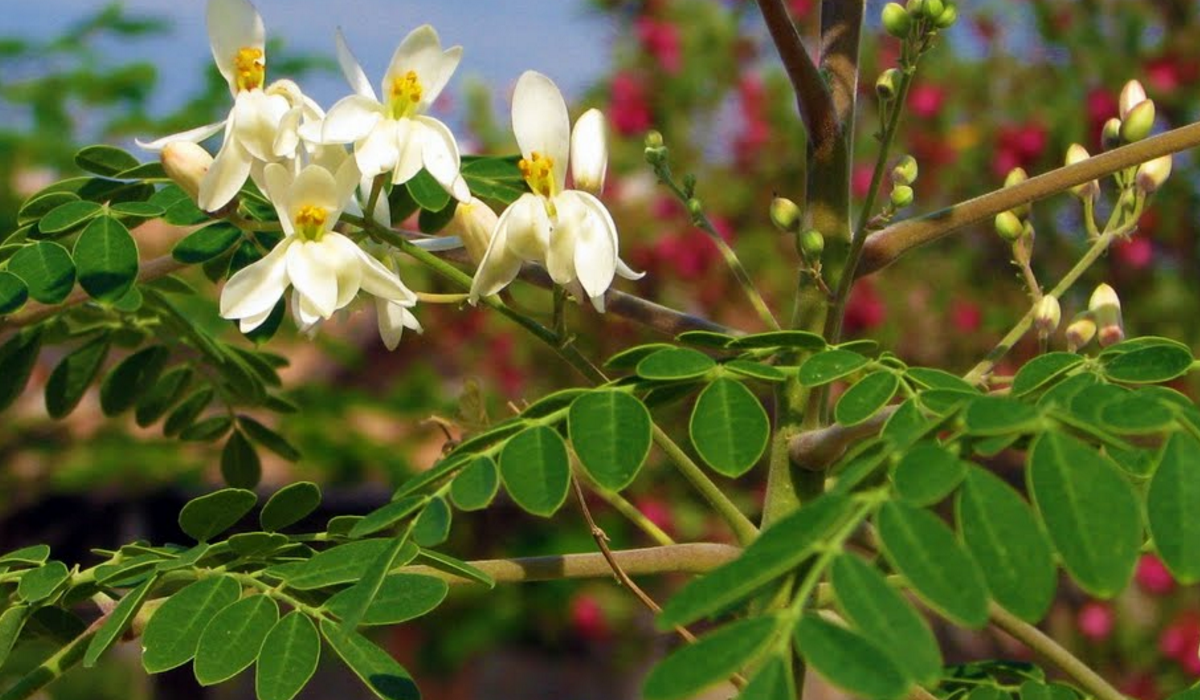 Moringa oleifera is a fast-growing, drought-resistant tree, native to the southern foothills of the Himalayas in northwestern India, and widely cultivated in tropical and subtropical areas where its young seed pods and leaves are used as vegetables. It can also be used for water purification and hand washing, and in herbal medicine. Moringa derives from a Tamil word, murungai, meaning "twisted pod", alluding to young fruit.
The flowers are fragrant, grow on slender, hairy stalks in spreading or drooping flower clusters. Flowering begins within the first six months after planting. In seasonally cool regions, flowering only occurs once a year between April and June. In more constant seasonal temperatures and with constant rainfall, flowering can happen twice or even all year-round..
The fruit is a hanging, three-sided brown capsule of 20–45 cm size which holds dark brown, globular seeds with a diameter around 1 cm. The seeds have three whitish papery wings and are dispersed by wind and water..
The moringa tree is grown mainly in semiarid, tropical, and subtropical areas. Moringa is a sun- and heat-loving plant, thus does not tolerate freezing or frost. Moringa is particularly suitable for dry regions, as it can be grown using rainwater without expensive irrigation techniques.India is the largest producer of moringa, with an annual production of 1.1 to 1.3 million tonnes of fruits from an area of 380 km²..
Moringa is grown in home gardens in West Bengal and Odisha and as living fences in southern India and Thailand, where it is commonly sold in local markets. In the Philippines and Indonesia, it is commonly grown for its leaves which are used as food. Moringa is also actively cultivated by the World Vegetable Center in Taiwan, a center for vegetable research. In Haiti, it is grown as windbreaks and to help reduce soil erosion..
More generally, moringa grows in the wild or is cultivated in Central America and the Caribbean, northern countries of South America, Africa, Southeast Asia and various countries of Oceania. As of 2010, cultivation in Hawaii, for commercial distribution in the United States, is in its early stages..
In India, from where moringa most likely originated, the diversity of wild types is large. This gives a good basis for breeding programs. In countries where moringa has been introduced, the diversity is usually much smaller among the cultivar types. Locally well-adapted wild types, though, can be found in most regions..
M. oleifera can be cultivated for its leaves, pods, and/or its kernels for oil extraction and water purification. The yields vary widely, depending on season, variety, fertilization, and irrigation regimen. .
Moringa is rich in numerous vitamins, proteins, and minerals, such as: Vit. A, B1, B2, B3 (Niacin), B5 (Pantothenic Acid), B6, C, Folate, Calcium, Iron, Magnesium, Manganese, Phosphorus, Potassium, Sodium, Zinc..
Many parts of moringa are edible, with regional uses varying widely. Immature seed pods are called "drumsticks".
The leaves are the most nutritious part of the plant, being a significant source of B vitamins, vitamin C, provitamin A as beta-carotene, vitamin K, manganese, and protein, among other essential nutrients. .
The leaves are cooked and used like spinach and are commonly dried and crushed into a powder used in soups and sauces..
The immature seed pods, called "drumsticks", are commonly consumed in South Asia. They are prepared by parboiling, and cooked in a curry until soft. The seed pods/fruits, even when cooked by boiling, remain particularly high in vitamin C. (which may be degraded variably by cooking) and are also a good source of dietary fiber, potassium, magnesium, and manganese..
The seeds, sometimes removed from more mature pods and eaten like peas or roasted like nuts, contain high levels of vitamin C and moderate amounts of B vitamins and dietary minerals..
Mature seeds yield 38–40% edible oil called ben oil from its high concentration of behenic acid. The refined oil is clear and odorless, and resists rancidity. .
The roots are shredded and used as a condiment with sharp flavor qualities deriving from significant content of polyphenols..
Moringa trees have been used to combat malnutrition, especially among infants and nursing mothers. Since moringa thrives in arid and semiarid environments, it may provide a versatile, nutritious food source throughout the year. Moringa leaves have been proposed as an iron-rich food source (31% Daily Value per 100 g consumed, table) to combat iron deficiency. However, further study is needed to test practical applications of using this dietary source and its iron bioavailability..
This section needs additional citations for verification. Please help improve this article by adding citations to reliable sources. Unsourced material may be challenged and removed. .
The leaves can be used in many ways, perhaps most commonly added to clear broth-based soups, such as the Filipino dishes tinola and utan. Tender moringa leaves, finely chopped, are used as garnish for vegetable dishes and salads, such as the Kerala dish thoran. It is also used in place of or along with coriander..
In some regions of India, the flowers are mixed with gram flour and spices, then deep fried into pakoras to be served as snacks or added to curries..
The bark, sap, roots, leaves, seeds and flowers are used in traditional medicine. Research has examined how it might affect blood lipid profiles, although it is not effective at diagnosing, treating, or preventing any human diseases..
Potential adverse effects..
Various adverse effects may occur from consuming moringa bark, roots, or flowers and their extracts, as these components contain chemicals that appear to be toxic when eaten. Moringa has been used safely in doses up to 6 grams (0.21 oz) daily for up to 3 weeks..
Moringa seed cake, obtained as a byproduct of pressing seeds to obtain oil, is used to filter water using flocculation to produce potable water for animal or human consumption. Moringa seeds contain dimeric cationic proteins which absorb and neutralize colloidal charges in turbid water, causing the colloidal particles to clump together, making the suspended particles easier to remove as sludge by either settling or filtration. Moringa seed cake removes most impurities from water. This use is of particular interest for being nontoxic and sustainable compared to other materials in moringa-growing regions where drinking water is affected by pollutants. (Source: Moringa oleifera, Wikipedia, the free encyclopedia. Notice: The original source document has been summarized, references and images removed to conserve space. Full original document may be viewed at this link: https://en.wikipedia.org/wiki/Moringa_oleifera . Authority control GND: 4134937-4. Attribution license: https://creativecommons.org/licenses/by-sa/3.0/ ).

Disclaimer: The information presented herein is intended for educational purposes only. These statements have not been evaluated by the FDA and are not intended to diagnose, cure, treat or prevent disease. Individual results may vary, and before using any supplements, it is always advisable to consult with your own health care provider.